"Exquisite harmonies, fascinating stories, and abundant charm." 
Kevin O'Regan, Music Coordinator
Evenley Arts Council (GBR)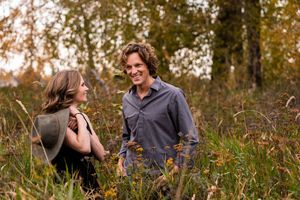 Live Videos
"The best surprise of the festival for me was Flint & Feather. My friend beside me and I were moved to tears more than once."
Heather Adamson, Songs in the Valley
Serenity Music Festival (BC) 
"This duo from Alberta won the hearts of our audience with their exquisite harmonies, fascinating stories, and abundant charm."
Kevin O'Regan, Music Coordinator 
Evenley Arts Council (GBR)
"Artists like Flint & Feather keep my interest in music going. I was amazed at what great storytellers they were - musicians as well!"
Matthew Cushing, Music Coordinator
Jasper Folk Music Festival (AB)
Flint & Feather spent the last year writing, recording, and co-producing their debut album Rebirth which will be released in digital and physical formats throughout 2023-2024. Their debut single 'The Very Thing I Fear' was released Friday, September 1, 2023 on streaming platforms worldwide.