"Alberta is lucky to claim them as our own." 
Karen Evans, Window on the West Committee
The Calgary Stampede (AB)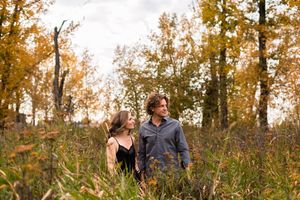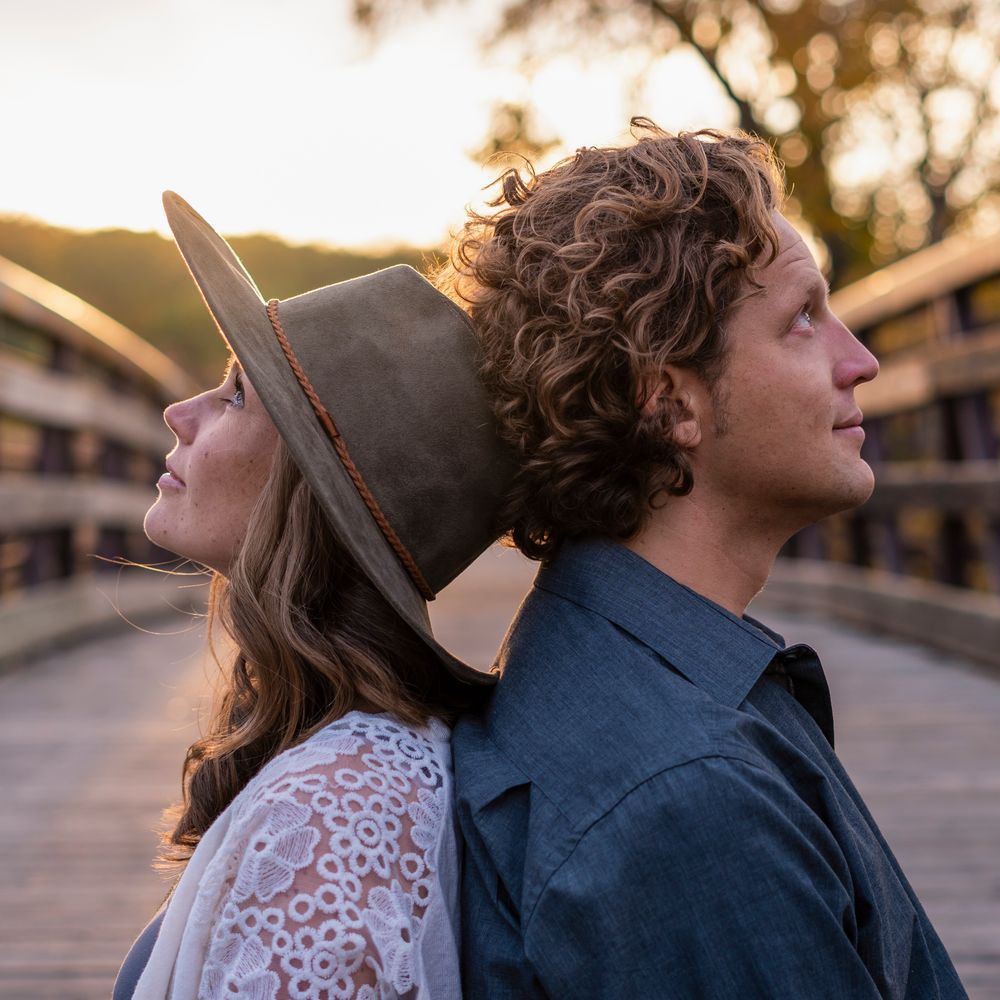 Flint & Feather (Joal and Lauren Kamps) are a free-spirited husband and wife duo who are passionate about cultivating community through folk/roots music, storytelling, and laughter. Drawing upon Western Canadian history, Rocky Mountain folklore, and their own colourful life journeys for inspiration, the Kamps create original 'Rocky Mountain Folk-Pop' songs that tell stories with an uncommon charm.
Flint & Feather's intimate combination of delicately woven harmonies and vivid lyrical imagery often evokes comparisons to Simon & Garfunkel, James Taylor, John Denver, and The Civil Wars. This classic sound is where the Kamps have definitively found their truest voices as singer-songwriters – allowing their honest and engaging live performances to connect with audiences of all-ages and backgrounds.
Now based in Calgary, AB, Joal and Lauren first began performing together while attending Canada's Music Incubator's 'Artist Entrepreneur Program' in Toronto, ON. Soon afterwards they gigged cross-Canada with VIA Rail's 'Artists Onboard Program' and toured 50+ dates in the United Kingdom and Western Europe. They have since performed hundreds of concerts in communities throughout Canada.
The Kamps are honoured Banff Centre artist alumni and graduates of the Hornby School for Emerging Artists. They are also winners of The Prophets of Music Society's 'Emerging Artist Program' and most recently showcased for industry partners at the Southeast Regional Folk Alliance (SERFA) in Chattanooga, TN, USA, and the Organization of Saskatchewan Arts Councils (OSAC) in Saskatoon, SK.
Joal and Lauren have been quietly planning the release of their album 'Rebirth', a seven-track record of love, loss, hope, and redemption. If you would like to be the first to hear about their latest music releases and other artist initiatives, please sign-up for their Mailing List or consider supporting them directly as a patron of the Arts by joining the Flint & Feather Family.
Select Highlights
2023: Fisher Peak Winter Ale Concert Series (Headliners) 

2021: Tongue on the Post Folk Music Festival (Co-Headliners) 

2020-21: Alberta's 'Artist in Residence & Arts Ambassador' (Joal Kamps) 

2019: Official showcase at 'OSAC' Organization of Saskatchewan Arts Councils (Provincial) 

2019: Official showcase at 'SERFA' Southeast Regional Folk Alliance (International) 

2018-19: The Prophets of Music Society's 'Emerging Artist Program' (Winners) 

2018: Banff Centre for Arts & Creativity's 'Musicians in Residence' (Alumni) 

2018: Hornby Festival's 'Hornby School for Emerging Artists' (Alumni) 

2017: International tour of Western Europe and the United Kingdom (32-dates) 

2016: International tour of Western Europe (27-dates) 

2016: VIA Rail's 'Artists On Board' Program (Alumni) 

2016: Canada's Music Incubator's 'Artist Entrepreneur Program' (Alumni) 

2016: Bell Media Prize (Winners)
Career Partners
Flint & Feather are deeply grateful to have experienced past or present career support, financial aid, or other artist opportunities through the generous assistance of: