"Their presence created a warm sense of community." 
Jess Preeper, Artist Management Consultant 
Have Heart Creative (AB)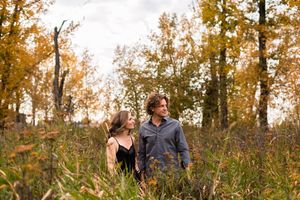 Community Concerts
Artist Responsibilities
Flint & Feather come direct to you or your desired community location (cul-de-sac, street-side, backyard, park, acreage) with our portable performance set-up which includes a full backline (requiring access to power) featuring a  professional audio system, two monitors, two microphones, our full instrumentation, and an artist merchandise display. This set-up works well for outdoors audiences up to approximately 150 persons in size.
Host Responsibilities 
Pull up a chair or blanket, grab a beverage or snack, and sit back, relax, and enjoy original live music to soothe the socially distanced soul. Invite your neighbours to take in the performance safely from their yards - or from a space like a driveway or parking pad, where social distancing can be safely observed.
Interested in Hosting? 
Please contact us through the submission form below and we can start planning for your successful House Concert event ASAP.